Breast Reduction Newport Beach
Breast Reduction: Enhancement in Life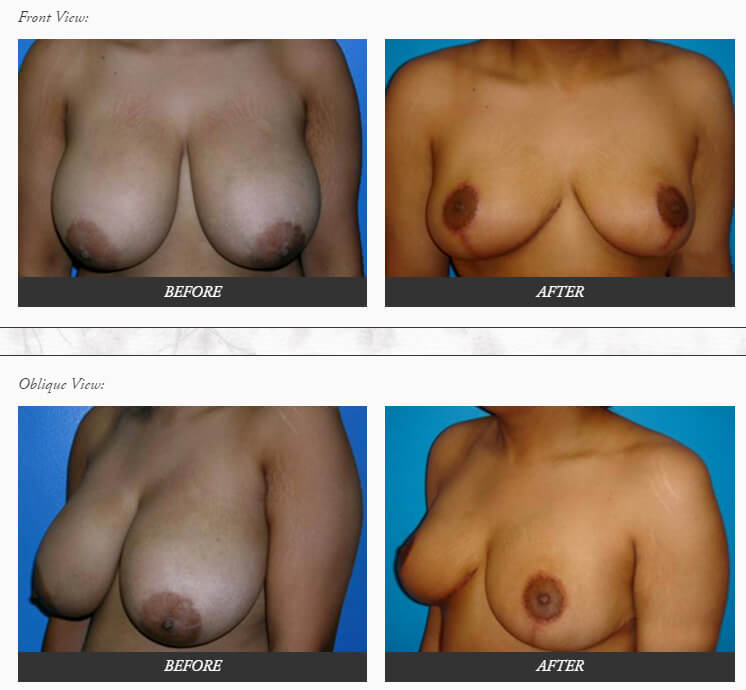 Breast Reduction in Newport Beach, which is also known as reduction mammaplasty, reduces over sized breasts to allow women to feel more comfortable in day-to-day life. Women are usually interested in a breast reduction because of pain, discomfort, medical conditions, and self-esteem issues that are associated with over sized breasts. Breast reduction surgery offers a wealth of benefits for women including:
Reduces fatty breast tissue, glandular tissue, and excess skin
Reduces and/or reposition the nipple for a more natural appearance
Removes shoulder and back pain associated with over sized breasts
Removes skin conditions associated with over sized breasts
Removes discomfort in bra straps
Improves stretched skin
Brings proportion to the body
Allows for participation in more social activities and an active lifestyle
Enhances sense of self-image and confidence
(Contact us today to schedule your Breast Reduction in Newport Beach appointment.)
The Breast Reduction Procedure
Dr. Champion and her staff will take care of you in every step of the procedure, including consultations, pre-operative planning, the procedure itself and post-operative care for your breast reduction procedure. Confidentiality and excellence in care is our fundamental goal. There are primarily four steps that are involved in the breast reduction procedure, including:
Anesthesia
Breast reduction patients will receive anesthesia to provide the greatest comfort during the breast reduction procedure. Dr. Champion will discuss options for anesthesia at the time of your private consultation.
Incision
Breast reduction surgery may be performed through one of three incision techniques, depending upon the extent of the reduction desired. Dr. Champion will review the optimal incision choice for you at the time of consultation.
The Breast Reduction Technique
During the breast reduction procedure, Dr. Champion will remove excess fat, glandular tissue, and/or skin to improve the overall size and shape of your breasts. In addition, Dr. Champion may reduce over sized areolas and reposition the nipple to a more natural position. Finally, the incisions will be closed with sutures, skin adhesives and/or surgical tape. The results of breast reduction are fully apparent following the procedure and women welcome the relief to every aspect of their life that was previously affected by their condition.
Breast Reduction Recovery
Breast reduction recovery requires care, but patients usually return to most normal activities within five days following the procedure. Dr. Champion will provide you with a list of instructions to follow for an enhanced recovery period. These instructions will include: medications to take and avoid, dates to return to the office, hygiene recommendations, care for incisions, and the types of activities to perform or avoid in the weeks following breast reduction surgery.
Breast reduction surgery is an individual decision that requires consideration for the scar that will fade, but may still appear over time. Most women find the benefits of surgery far outweigh scar risks. In some cases, it may not be possible to achieve optimal results with a single surgical procedure and another surgery may be necessary. In addition, a complication may arise, but can be managed when immediately reported to Dr. Champion.
The breast reduction results may change with age, pregnancy, weight loss or weight gain. For these reasons, you may require a revision surgery or a secondary procedure in order to continue with the benefits. In the meantime, breast reduction results are immediate following the procedure. Over time, scars from incisions will fade. Dr. Champion's patients overall have experienced several life changing benefits from the breast reduction procedure.
---
Schedule a Newport Beach Breast Reduction Appointment
Dr. Champion offers her patients the most current technology in cosmetic surgery available on the market today. Schedule an appointment to learn more about Orange County cosmetic surgery procedures such as breast reduction from Dr. Angela Champion.
To learn more about treatments and procedures by Board Certified Plastic & Reconstructive Surgeon Angela Champion, M.D. contact us at 949.446.1106. Taking new patients from in and around Newport Beach | Orange County CA.
Dr. Champion looks forward to meeting you during your initial consultation.